Brandon
suggests
we use the words "
xenodochial
" (friendliness towards strangers) and
xenium
(a gift for a guest) more often. So, today I thought I'd rewrite the description for the
MLP: FiM
episode "
A Friend in Deed
":
The Xenodochial Pinkie Pie tries to become friends with new Ponyville resident Cranky Doodle Donkey. However, the donkey absolutely refuses to become friends with her, no matter how hard Pinkie Pie tries by giving him xenium.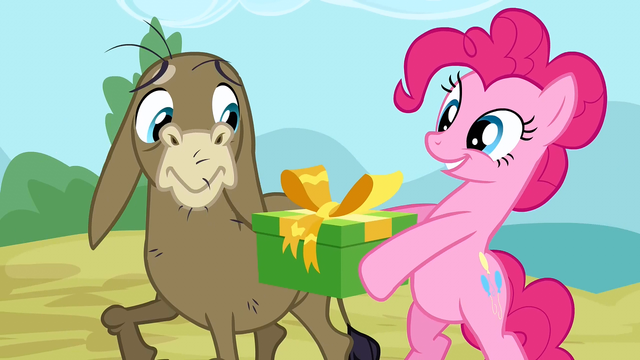 Xenodochial Pinkamena gives Cranky Doodle Donkey a xenium wig
If that's not
enough
over-the-top super-hyper antics for you, as a token of my xenodochial disposition I give you the "Welcome Song," the perfect xenium for all new visitors to your blog: